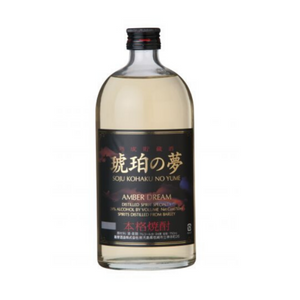 The name Kohaku no Yume means 'amber dream' in Japanese. This Shochu is made from 100% select barley, then aged in oak barrels, giving it a mature mild taste with a fruity aroma. Kohaku No Yume's amber color comes naturally from the oak barrel aging process.
All-natural ingredients. No additives.
Distillation: Normal pressure single distillation
Serving Suggestion: Enjoy it mixed with water, with soda, on the rocks, or straight.
Food pairing suggestions: Serve with Sushi, Sashimi, Grilled Fish, Chicken etc.
PRODUCT INFO
DISTILLERY: SATSUMA
REGION: KYUSHU
PREFECTURE: KAGOSHIMA
ABV: 24%
BARLEY, BARLEY KOJI
KOJI: SHIRO WHITE KOJI
SERVED: ICE, CHILLED, WARM
SKU: 01595 6/750ML