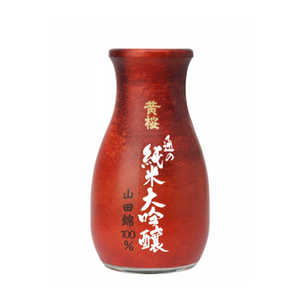 This handy bottle itself is the original bottle of Kizakura. You can enjoy the sake directly after you open the cap. Kizakura created this compact design in hopes that more people can casually enjoy high-grade sake.
Characteristics
Made with 100% Yamadanishiki rice
Filled in an original traditional sake bottle
Fruity aroma
Mild entry, soon followed by moderate acidity and rice flavor. 
The Story of Tsu
"Tsu" means "connoisseur" or "well-versed" in Japanese. The world of sake is very wide and there is a large range of drinkers from beginners to experts. We launched this sake as the product that "Tsu", expert drinkers can get satisfaction from drinking. 
Food Pairing:
Fruity and medium-bodied taste goes well with sashimi and tempura with salt. (Salmon sashimi, vegetable, and seafood tempura)
PRODUCT INFO
CLASS: JUNMAI DAIGINJO

BREWERY: KIZAKURA
REGION: KANSAI
PREFECTURE: KYOTO

ABV: 15%

SMV: -2

Acid Degree: 1.2

Amino Acidity: 1.2

Rice Polished: 40%

Best Served:  Chilled

#07968    20/180mm