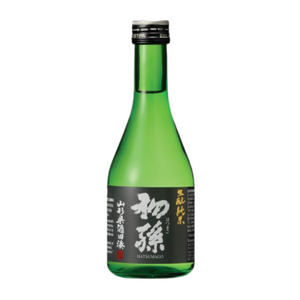 Clear platinum. Aromas and flavors of vanilla rice pudding, delicate nutmeg and cinnamon, and apple tart with a silky, dry-yet-fruity, medium-to-full body and a smooth, resonant finish with notes of papaya, plantain, and grassy earth. Excellent complexity and depth.
2012 BTI World Wine Championships Gold Medal 91pt 
Recommended way of serving:
The light aroma from this sake has a refreshing appeal, and its subtle Kimoto body enhances the taste of foods. Hatsumago Junmai starts with a gentle light and clean flavor, followed soon after by a more intricate flavor that spreads across the palate with an exhilarating finish.

International Wine Challenge Sake Brewery of The Year 2018.
Recommended Dishes
Great accompaniment to sashimi, sushi, and seafood in general. Also, compliments vinegary and lightly fried foods. This sake particularly enhances the flavor of raw oysters, as it diminishes its fishy aftertaste. (ex.) Any Sushi & Sashimi, Black Co
PRODUCT INFO
CLASS: JUNMAI
BREWERY: TOHOKU MEIJO
REGION: TOHOKU
PREFECTURE: YAMAGATA
ABV: 15-16%
SMV: +2
Acid Degree: 1.4
Rice Polished: 60%
Type of rice: Miyamanishiki
Best Served:  CHILLED, WARM
SKU: 00176 6/300ML (min 6)