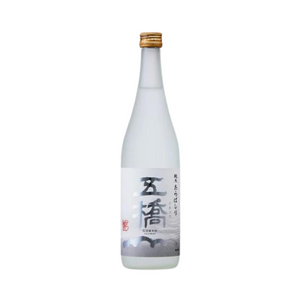 *Limited seasonal sake available every spring. 
Rich type. The refreshing aroma of young banana and ripe apple. Medium dry sake with a complex and mild flavor. Serve chilled.
PAIRING
Squid or scallop sashimi, shrimp & avocado Grilled sweetfish, Yellowtail tataki, Deep-fried flatfish, Lambchop with fruit sauce, Shrimp & avocado fresh spring roll, Stir-fried pork and bean sprouts, Sauteed scallops, Cream stew, Tempura, etc.
PRODUCT INFO

CLASS: JUNMAI NAMA GENSHU
BREWERY: GOKYO
REGION: CHUGOKU
PREFECTURE: YAMAGUCHI
ABV: 17%
SMV: +1
Acid Degree: 1.8
Amino Acidity: 1.6
Rice Polished: 60/60%
Rice Kakemai: NIHONBARE/
Rice Shubo/Koji: YAMAGUCHI
Yeast: 1801 / 9E
Best Served: Chilled, Warm
SKU:

06029     

12/720ml