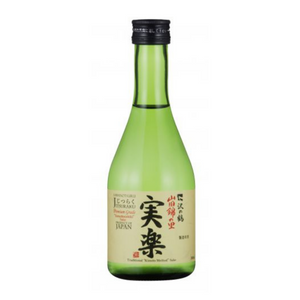 "Jitsuraku" is the place name in Yamadanishiki A district. Featuring refined taste and delicate taste that is unique only from raw linen made by hands.

Nada Miyamizu (natural water from the Rokko Mountains), which has been selected as one of the 100 best waters, is used as the water for preparation.

Please keep it in a cool and dark place, please drink it as soon as possible after opening.
IWC2018 Junmai shu Division Bronze Award
PRODUCT INFO
CLASS: TOKUBETSU JUNMAI
BREWERY: SAWANOTSURU
REGION: HYOGO
ABV: 14-15%
SMV: +2
Acid Degree: 1.8
Rice Polished : 70%
Rice: YAMADANISHIKI
Best Served:  COOL
SKU: 00625 12/300ML (MIN 12)