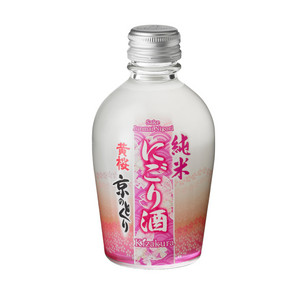 Well-balanced taste between acidity and sweetness! "Nigori" in Japanese means "Cloudy" in English. The appearance of Nigori sake is white color with cloudiness of
ingredients like rice. Since we use a coarse filter in the process of pressing,
this sake contains a lot of small sake lees. The taste of this sake reminds you of fresh yogurt drink!
This nigori sake is fresh and sweet with creamy texture
and it is very rich in "Umami".
PRODUCT INFO
BREWERY: KIZAKURA
REGION: KANSAI
PREFECTURE: KYOTO
ABV: 10%
SMV: -35
ACID DEGREE: 2.8
RICE POLISHED: 70%
RICE: GINOUMI KOSHIHIKARI
Best Served: ICE, CHILLED, ROOM TEMP.
#06477 20/180ML (MIN 10EA)