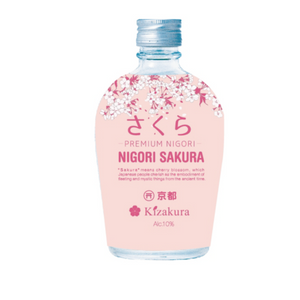 Characteristics

Eyecatching bright pink color
natural "Sakura" flavor which reminds you of Japanese traditional sweets, 
"Sakura Mochi" 
Milky & sweet and sour taste with an enchanting aroma like cinnamon
Smooth & short after taste with a hint of anise
Sakura for Japanese People
"Sakura" means cherry blossom. After passing strict winter, it blooms only for about two weeks. This aspect looks very tempting to Japanese people and they cherish as the embodiment of mystic and fleeting things from the ancient time. 
 Cocktail Recipe:
Sakura Fiz
Sakura Nogori 6oz
Lemon Juice 1oz
Sparkling Water 6oz
Sakura Latte

Sakura Nigori 2.5oz
Milk or Soy Milk 3.6 oz
Mix Sakura Nigori inot hot milk/soy milk. Top it with whipped cream. 
Spring Chill

Sakura Nigori 1.40z
Vodka 1.40z
Lime Juice 0.5oz
Add all ingredients. Shake and pour. 
PRODUCT INFO

CLASS: FLAVORED NIGORI
BREWERY: KIZAKURA
REGION: KANSAI
PREFECTURE: KYOTO
ABV: 9.5%
SMV: -88
Acid Degree: 1.1
Rice Polished: 70%
Best Served:  CHILLED
#08532 12/300ML