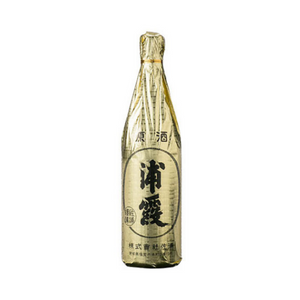 Solid alcohol content sensation, fragrances of matured green apples spread in density on the palate. Those fruity aspects gives the Genshu a soft and smooth impression which pairs beutifully with any rich meal. At room temperature, it can be easily enjoyed with rich meals such as an oily nabe. On the rocks is also recommended. Package is outstanding design and unique. All golden colour wrapping is notable.
Flavour: Rich, full-bodied 
Aroma: Vanilla, honey, green apple.
Pairing: Steak, foie gras, blue cheese.
Appearance: Clear, pale
Nose: Vanilla, green apples and honey-like
Palate: Higher alcohol, Smooth and rich
PRODUCT INFO
CLASS: HONJOZO GENSHU
BREWERY: URAKASUMI
REGION: MIYAGI
ABV: 18-18.9%
SMV: -1 to -2
Acid Degree: 1.6
Polishing Rate: 65%
Rice: MANAMUSUME
Best Served: ICED, CHILLED, ROOM TEMP (10~25° C)
SKU: 06168 12/720ML